Rihito Sajou is a second year student in high school. He is very smart but because he has failed his college entrance exams, he goes to summer school to prepare for the exams. That's where he meets Kusakabe.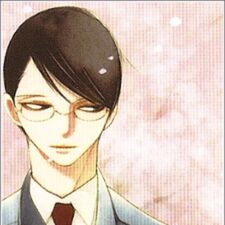 Appearance
Sajou has straight, dark hair in a basic haircut with his part on the left side of his face. He is very slender and a little bit shorter than Kusakabe. He wears wire-rimmed eyeglasses all the time. He tends to dress in a very conservative way and only wears a wristwatch.
Personality
Rihito Sajou is an excellent student and he seems to have a high IQ although he works very hard to maintain his top grades. He is a gloomy sort of person who doesn't recognize his good traits. He doesn't seem to have any friends because he is quite shy and doesn't reach out to people. He wants to go to college where his parents and grandparents went which shows he tends to follow the path someone else sets for him.
Relationships
His relationship with Kusakabe begins as a tutor-student sort of friendship that becomes much more. Although Sajou recognizes that he's gay, he doesn't act on it in any way. Kusakabe breaks down those barriers and eventually, Sajou warms up to him as both a friend and a love interest. His relationship with his teacher, Hara-sen, is complicated. It is unknown if Hara-sen has flirted with or kissed Sajou in the part but Sajou seems a little uncomfortable with him. Even so, he won't defy a teacher so when Hara-sen makes a move on him, he's about to allow it until Kusakabe enters the room and pounds the teacher on the head before escaping with Sajou. Sajou's mother is seen in the film as an ordinary person who works and cares about her son's well-being. She offers to drive him to the test center but, not wanting to bother her, he tells her to go to work.
Trivia
Write here.
Quotes
"As long as you're with me, that's enough for me." (To Kusakabe)
Gallery